Event Planners
The Bolzans Together:
Whatever Life Brings, Look For Opportunity
As detailed in their newly released best selling book titled, My Life, Deleted, The Bolzan's talks, unfold their compelling, inspirational, and courageous journey that embraces their philosophy of: Whatever Life Brings, Look for Opportunity.
With unimaginable heartwarming stories and humor they share they how over the years they have preserved through enormous life challenges and defeats, and most recently Scott's devastating traumatic brain injury leaving him with an unimaginable loss of his entire 46 years of memory.
Joan then incorporates her credentialed leadership knowledge and over 20 years experience working with various industry leaders and couples her talks with successful business tactics she has gleaned from her interactions with Scott while he achieved the high level of success in playing in the NFL, becoming a pilot and a successful business owner.
Their extraordinary and touching story will inspire your audience to understand that when life is altered by any challenges you need to learn, grow, help and believe that anything is possible.
To LEARN:
Identify Successful Attitudes
Clarify the "Big Picture" Using Insight
Understand Your Core Purpose
To GROW:
Develop Leaders that Increase Human Potential
Strengthen Competence
Impact Confidence, Involvement and Commitment
To HELP:
Heighten Goals
Energize and Inspire
Empower Others
SCOTT TALKS:

Scott Bolzan, Former NFL Player, Aviation Company Founder, Brain Injury Survivor, Speaker/Best Selling Author, Recipient of the 2015 Tempe Sports Authority Foundation Courage Award
Scott Bolzan unfolds a compelling, inspirational and courageous journey through his life. He shares his drive to overcome obstacles with his ingrained values and learned discipline. With a "never give up" attitude Scott has persevered through the loss of his first daughter, drug addiction of his son, career defeats and challenges as an NFL Player, pilot and owner/entrepreneur of a successful private aviation company and a devastating brain injury with profound memory loss.
Hear how a man maintains a marriage of 25 plus years while remaining fully engaged in the lives of his two children, successfully balancing career endeavors in light of adversity. With a strong emphasis on "family first", Scott exhibits outstanding strength to move forward through extraordinary life challenges.
Scott is available to speak to all groups but focuses on the following:
Business groups
Athletic Associations
Educational Institutions
Brain Injury Associations
JOAN TALKS:

Joan Bolzan, Wife, Mother, Executive, RN, MSL Speaker/ Best Selling Author
By sharing her credentialed knowledge combined with her unique personal and professional experiences, Joan Bolzan demonstrates how people can overcome their personal challenges, move forward and apply the philosophy of  "Whatever Life Brings, Look For Opportunity".
As a keynote speaker, Joan enables you to realize your vision with conscious attention to integrity. She helps you reclaim your life and relationships by applying leadership skills.  Joan also enlightens individuals about their opportunity to not just triumph over adversity, but be more resilient to new challenges.  Her words will empower you to move to a new level of  leadership in your job, industry, or your life.  After hearing her riveting journey, you will begin to accomplish real change and lasting solutions and know what it takes to motivate personal change.
Learn how what you think changes the way you feel.
Effectively manage "crisis mode change" and learn how not to react in fear, anger and frustration.
Gain control over destructive habits.
When speaking with her husband Scott,  it is clear that the Bolzan's true love for each other has kept them solid and optimistic though tragedies and triumph on their journey of life together.  They have persevered and learned a higher sense of purpose through the loss of their first daughter, a drug addiction of their son, Joan's reoccurring depression and Scott's career defeats and challenges as an NFL player, his becoming a pilot and owner/entrepreneur of a successful private aviation company, and most recently his devastating brain injury that erased the memories of his 46-year life.
Scott's memoir, co-written with his wife Joan, My Life, Deleted, comes out in fall 2011 from HarperOne.  Sought after keynote speakers, the Bolzan's share their remarkable story and how their business and personal life lessons apply to a variety of groups, including business organizations, athletic associations, educational institutions, and brain injury associations. Some of their speaking clients include Business Clubs of America, Tucson Medical Center, Sprint, CBS Outdoor, Udall Law Firm, the University of Phoenix, and The Ken Blanchard Executive MBA. They can be booked together or separately .  The Bolzan's custom-tailored talks are candid, heartfelt, filled with humor, and leave audiences inspired and understanding that "Whatever Life Brings, Look For Opportunity".
Joan can be booked with her husband, Scott or separately by contacting:  SLB HOLDINGS at 855-BOLZANS
download this one sheet of The Bolzans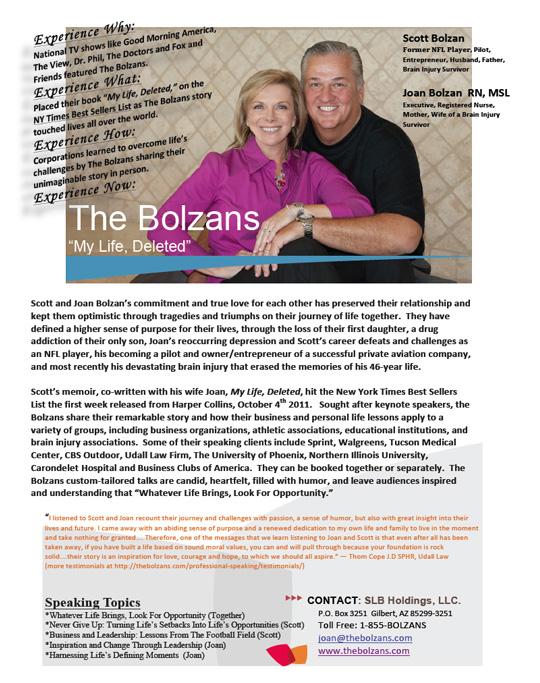 download this one sheet of Scott Bolzan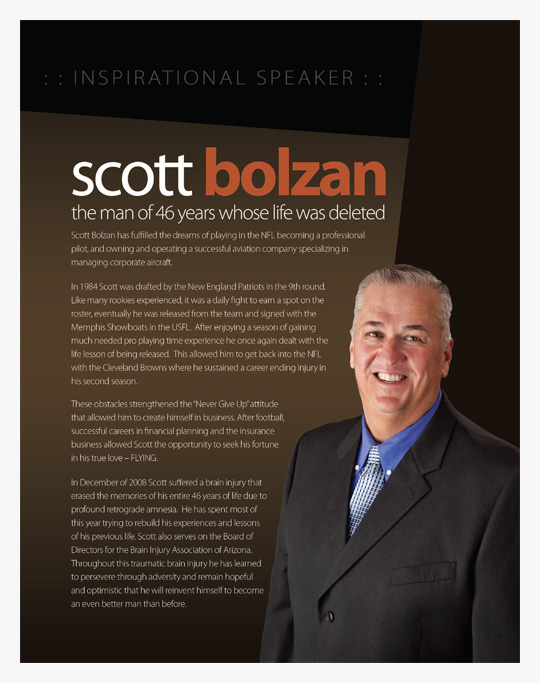 download this one sheet of Joan Bolzan