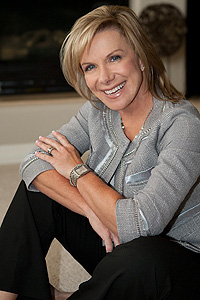 Joan Bolzan,
RN, MSL Speaker/NY Times Best Selling Author
Joan Bolzan (Born 2/23/63 in Joliet, IL) has professionally and personally maintained a supportive role as a wife, mother, nurse and executive director. She adapted to moving from city to city, overcoming personal and financial situations while her husband played professional football for several teams and later grew his various businesses. Over the years, Joan gained practical knowledge through education, employment opportunities and real life experiences that helped her to master her leadership qualities. She continually challenged herself to grow on the edge of chaos with each role. Her unlimited personal initiative, experience and drive have laid the foundation to make key transitions to move forward through adversity and crisis.
College Career
Joan graduated from Victor J. Andrew High School in 1981. She attended and graduated Magna Cum Laude in 1988 from the Northern Illinois University School of Nursing earning a BSN. At NIU, Joan was a competitive gymnast in 1981 and the Head Cheerleading Coach from 1987-88. Joan met and married her college sweetheart, Scott Bolzan. Joan and Scott have been happily married since 1984 they have one son, Grant and one daughter, Taylor. They reside in Gilbert, AZ.
Joan earned her postgraduate degree, Master's of Science-Leadership, graduating with academic excellence from Grand Canyon University School of Business in 2006. 
Professional Career
Working as an RN for most of her professional years, she specialized in emergency, school and perioperative nursing in Illinois and Arizona. After earning her master's degree in 2006, she transitioned into the business world as the Director of Marketing and Charter Sales for a private jet aviation business that was owned and operated by her husband Scott. Scott's injury she challenged herself yet again by taking the reign and successfully growing a grassroots nonprofit organization as the Executive Director of a hospice foundation. Joan is currently a New York Times Best Selling Author and Professional Speaker. She has proudly served on the Advisory Board Member for the ASU Art Museum and Chairs the Guild for the Neuro NICU at Phoenix Children's Hospital.
Overcoming Life's Challenges
On February 27, 1988, Joan and Scott buried their first-born daughter, Taryn, when she was stillborn, full term on the day of her birth. After the loss of their daughter, Joan has fought with her own depression. She later struggled through her son's battle with a drug addiction. Recently, her husband and best friend has lost his entire 46 years of memory with retrograde biographical and historical amnesia after a head injury in December of 2008. This event has launched her into the lead role of family, sole financial supporter and primary decision maker. Joan draws on her experience, faith and winning strategies to move herself and her family forward. She speaks with a unique mixture of humor and passion while having a sense of purpose to inspire others to prepare and move through life's unexpected obstacles.