On December 17, 2008, 46-year-old Scott Bolzan awoke in a hospital with no memory of who he was or how he got there.
He didn't know that the petite blond at his side was his wife of twenty-four years, Joan—or even what a wife was.
He couldn't remember the births of his two young-adult children, the daughter he'd lost, his time as an offensive lineman for the NFL's Cleveland Browns, or his flourishing aviation career.
LIFE'S MEMORIES GONE… ERASED… DELETED…
"MY LIFE DELETED"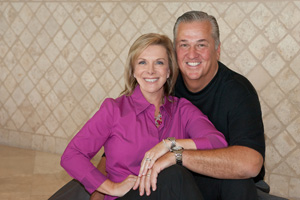 THE BOLZANS
"My Life, Deleted"
# 16 NEW YORK TIMES BEST SELLERS LIST IN FIRST WEEK
Now available in Paperback:
The BOLZAN Talks:
Scott and Joan Bolzan's true love for each other has kept them solid and optimistic though tragedies and triumph on their journey of life together. They have persevered and learned a higher sense of purpose through the loss of their first daughter, a drug addiction of their son, Joan's reoccurring depression and Scott's career defeats and challenges as an NFL player, his becoming a pilot and owner/entrepreneur of a successful private aviation company, and most recently his devastating brain injury that erased the memories of his 46-year life.
Scott's memoir, co-written with his wife Joan, "My Life, Deleted" from Harper Collins hit The New York Times Best Seller List the first week on the stands. Sought after keynote speakers, the Bolzan's share their remarkable story and how their business and personal life lessons apply to a variety of groups, including business organizations, athletic associations, educational institutions, and brain injury associations. Some of their speaking clients include Business Clubs of America, Tucson Medical Center, Sprint, CBS Outdoor, Udall Law Firm, the University of Phoenix, and The Ken Blanchard Executive MBA. They can be booked together or separately .The Bolzan's custom-tailored talks are candid, heartfelt, filled with humor, and leave audiences inspired and understanding that "Whatever Life Brings, Look For Opportunity".
Speaking Demo Video:

download this one sheet of The Bolzans